Article by Ronita Mohan
Finding the right candidate for your small or medium business can often be a difficult task. The number of potential employees has increased over the past few years, but so have the needs of companies. Recruitment policies have had to change, as a result, for companies to achieve that prized combination of the right person for the right job. But what many businesses don't realise is that human resources and recruitment can work together to get the best candidates. We look at how the best skills of the human resources department can help boost recruitment efficiency.
How is HR Different from Recruitment?
HR and recruitment are often confused for each other, but in actuality, they are two sides of the same coin. HR is more concerned with internal dynamics—the employees who are already working within the organisation. They manage employee compensations, communications, using on-boarding tools for new employees, conduct performance reviews, and job interviews.
Recruiters are in charge of bringing new employees into the organisation. They analyse the current market, target audiences, conduct promotions to reach candidates, screen potential employees, and check references.
From an employee's point of view, they meet with recruiters before joining a company, and once they become an employee, they liaise with HR. How can these two facets work together to get your company the best candidates? Here are a few methods.
Understanding the Audience
While the recruiting team is actively searching for candidates, it is the HR team that knows what they are looking for. HR are crucial for finding the right person for the right job. They will know what role the vacancy is for, how the previous person who filled the role managed their workload, as well as what they could and couldn't achieve.
Alongside this, HR will know what kind of personality the company is looking for in the role—a leader, a worker, or a team player. The knowledge that the HR team will have in this area is particularly important for companies that work with external recruiters. But even with internal recruitment teams, they tend to be a little removed from the various job roles, when compared to HR. Which is why the knowledge of the HR team is so essential targeting the right audience.
Additionally, HR will have a better understanding of the employee career path in the specific role the company is recruiting for. This will help recruiters create content that effectively lets candidates know where their role could take them in the long run.
When creating job posts and materials, recruiters should be turning to HR for their expertise on what the role requires so they can efficiently choose the right candidate.
Establish Company Culture
One of the most important things that candidates look for when applying for jobs is whether the company culture is a good fit for them. When creating postings, recruiters will have to display a deep understanding of company culture if they want to attract job seekers.
HR should be the first point of call to understand how to incorporate company culture in promotional materials. If your company is laid back and veers towards humour, HR can let the recruitment team know to adjust their posts accordingly. Maybe even take a few quirky pictures of employees to share.
On the other hand, if your business is more serious and work-focused, HR can advise the recruiting team of this, and postings can be created to reflect that culture.
Whatever the philosophy of your company, it should be obvious from the get-go for potential candidates. With HR working closely with employees, they will be best placed to know what needs to be shared in job posts, thus creating effective communication channels between potential employees and the business.
Company Branding
Closely related to company culture is company branding. To attract potential employees, it is important to stand out from your competition. You need to show candidates what your company is about and why they should choose you instead of another business. The HR team have the know-how to achieve this.
The best way to do this is by employing your brand identity across multiple channels. Your company brand should be clear on your website and recruitment advertising. But you should also look at brand building efforts on social media channels and email newsletters.
Branding doesn't only mean the logo and brand colours, but also the ethos of the brand. Intrinsically tied into HR responsibilities is an understanding of how the company works and why. HR can connect the recruitment team with established employees who can give them a better understanding of what candidates need to know to draw them towards the company.
When recruiters are creating promotional material to reach candidates, they can tap into the knowledge of HR professionals within the company to optimise their copy so the company's brand messaging is loud and clear.
Recruitment Through Social Media
The digital sphere is all-encompassing and most recruiters know that they need to look for candidates on social media. But one's work isn't done by simply posting about job vacancies on social media channels—such as LinkedIn, Facebook, and Twitter. The company and its employees need to have a positive presence on social media that will attract potential candidates.
HR is well-positioned to ask employees to post and tweet about working at the company. Not only does this show casual observers what they can expect from the company, but it also fosters a culture of open communication. Candidates looking through the employees of the company will see that they are so comfortable at the workplace that they are more than happy to talk about it in a public forum.
HR can also choose employees to highlight on the company's social media pages, which will act as a reward in itself. From a recruitment point of view, recognising employees in a public arena will boost the company's profile to incoming candidates, increasing recruitment numbers.
The Right Tools
Recruiters are front-facing—they contact candidates, conduct screenings, and initial interviews. HR, on the other hand, tend to be far more behind-the-scenes. But they do have access to tools that will help the recruitment drive.
HR teams can glean information about employees by using employee reviews, and this data can then be shared with the recruitment team to understand what is needed from potential candidates. You can see how the data collected in this example of a performance review template can be used to enhance recruitment drives.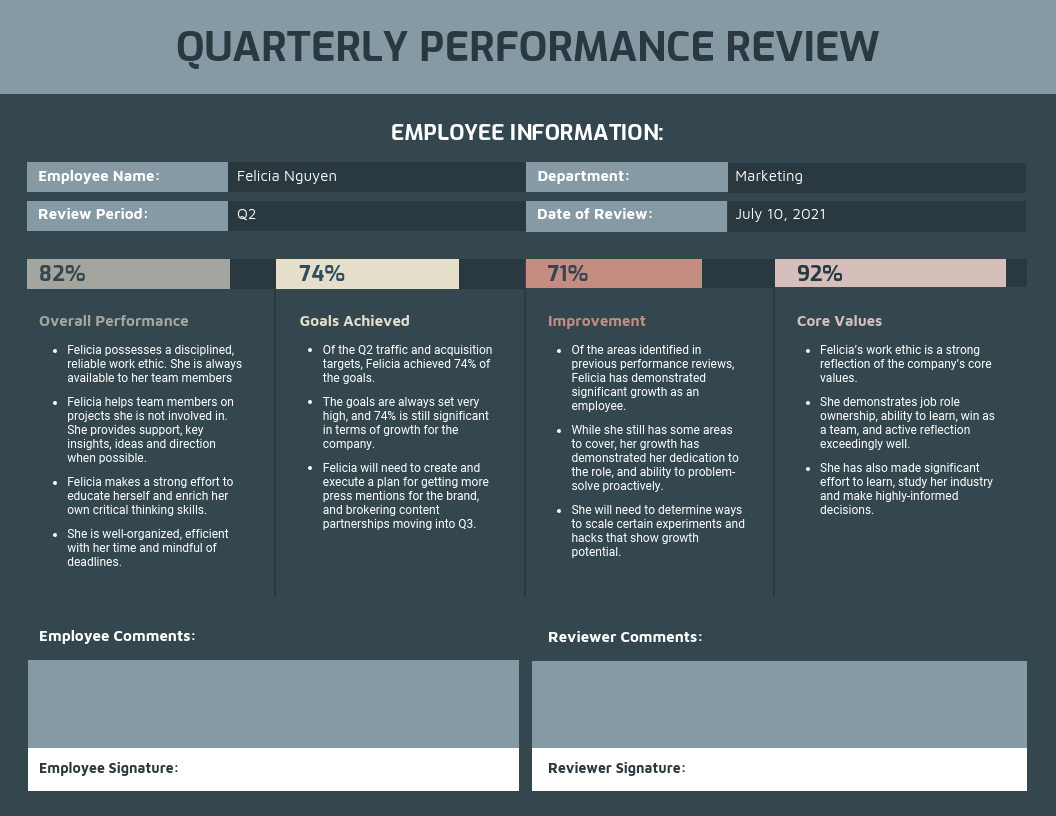 HR will likely also have access to applicant tracking software that can automate much of the recruitment process. There are a number of online tools available that will make the hiring process faster and more efficient, as well as less labour-intensive.
Job seekers often visit employer and company review websites, many of which HR will be monitoring. Replying to reviews and engaging with internet users will help the recruitment process as most candidates will be drawn to companies who are active online. Not only will this improve the company's profile, but will also boost recruitment efficiency.
Final Thoughts
The HR team can be tapped for their understanding of what a job role entails and who they would like to see take up the position. In addition, their in depth understanding of the company's philosophy and culture places them in an excellent position to guide the recruitment team's efforts.
HR tend to know best what should be included in promotional materials and social media posts that will incentivise job seekers to apply to the company. Finally, with select HR tools, the HR team better connect with new candidates with little effort.
The combination of HR's knowledge and the recruitment team's efforts will not only boost recruitment efficiency, but will also help companies get the best candidates for the role.