No matter how successful you already are, owning a business is challenging.
To run a successful company, business owners and entrepreneurs have to deal with a wide range of challenges, and it can get lonely. Family, friends, and colleagues aren't the best sounding boards for business advice. Most CEOs and business owners we've talked to feel they can't properly share those challenges with those around them. Without an objective, experienced set of peers to turn to, leading a business can be isolating and difficult. But it doesn't have to be.
A business owner advisory board (also known as a peer advisory board or mastermind group) offers a close-knit group of experienced peers from a range of industries who can help you navigate whatever challenges come your way. You'll get the feedback, accountability, expertise, and support you need to transform your business.

TAB Board Membership Helps You Improve Your Business and Change Your Life.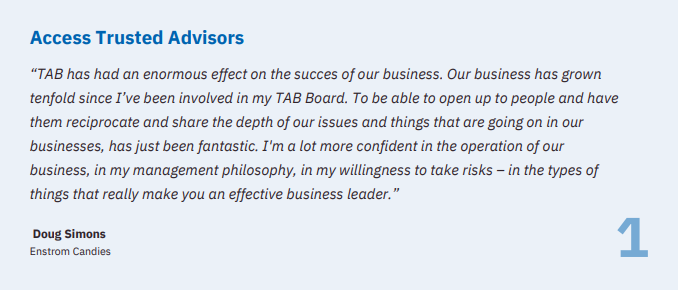 Is a Business Owner Advisory Board Right for You?
Whether you're just getting your first business off the ground or you've been around the block a few times before, a business owner advisory board can help you get your business where you want it to go. A group of likeminded business owners with experience and acumen are a powerful resource to have at your back.
A peer advisory board will be a valuable asset to anyone who is:
Ready to increase growth
Considering a new direction or heading into uncharted territory
In a rut and unsure how to get out of it
Considering a transition of power and in need of advice
Likely to benefit from consistent help with marketing, hiring, employee management, and other day-to-day business concerns
Looking to run the business more efficiently
Hoping to improve work-life balance
Acquiring or starting a new business and wants expert mentorship
Beginning the process of selling a business and looking to make it more attractive for a potential buyer
Essentially, a business owner advisory board is a smart move for every business owner – no matter when. It will
help you step forward with clarity, confidence and momentum. You've succeeded and survived alone, but with a
peer advisory board at your back, you and your business will thrive.
Lead Better. Live Better. Achieve More.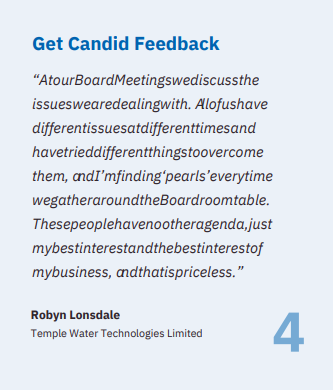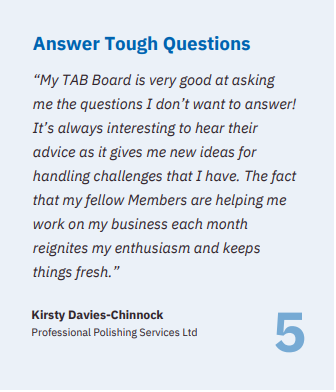 .
How a TAB Advisory Board Will Help Transform Your Business
For over 30 years, The Alternative Board has cultivated a thriving community of motivated CEOs and business
owners who share an expertise and passion to radically improve their companies. We bring together busy
entrepreneurs committed to giving and receiving the candid guidance that can only come from peers following the
same path. And who know that gaining insight from each other is better than going it alone.

A TAB Peer Advisory Board gives you a trusted, experienced community of 8-10 high-performing CEOs and
business owners who've faced similar situations.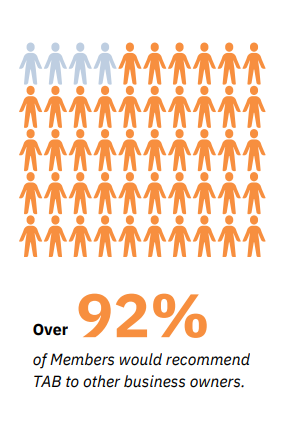 People who:

Speak honestly and openly in a confidential environment

Ask tough questions and challenge you to stay accountable

Push you to act on things you might put off

Encourage you to outperform your goals

Offer diverse perspectives you won't get anywhere else

Connect you with valuable resources
Our members consistently describe The Alternative Board as life-changing. They say they've never understood what was missing until they found TAB. When you're looking to move your business forward, TAB's got your back.
Below are just some of the ways that TAB Membership will help you get your business where you want it to go.
Live the life you've been working for.

Augment Your Core Competencies
Every business owner has specific strengths and weaknesses. Regardless of background, we can all use more indepth assistance in certain areas. Maybe you're excellent at keeping your business on track fiscally and identifying inefficiencies, but you might benefit from some help with communicating effectively or developing a marketing strategy.

That's why TAB Membership can really help you shine. In addition to your peer advisory board, you'll be given access to one-on-one coaching that can help you dive into specific areas of opportunity. Many business owners find it difficult to admit vulnerability or knowledge gaps to others, but your peer advisory board is designed as a safe space where you can assess your strengths and grow professionally.


Learn from Others
On your advisory board, you'll be able to learn from others who have navigated similar challenges. The collective wisdom of your TAB Board will span many decades across a range of industries – ensuring that you each have much to teach and learn from one another.

Each member of a peer advisory board will come with a different unique set of strengths and weaknesses, each tried and tested in the real world. This makes a board a powerful tool for business owners to help fill the gaps in each other's knowledge and grow their own capabilities in other areas. Along with receiving advice, you will also get an opportunity to share your own knowledge. This kind of candid exchange challenges you to grow, as well as gives you an opportunity to help out other business owners.
Community, Confidence and Strategic Clarity.
Work Through Business Challenges
Are you puzzling through a new growth idea? Considering a possible business opportunity? Here's another place where the real-world experience of your business owner advisory board will come in handy. Adapting generic advice to your specific business is a challenge, and evaluating whether or not a specific strategy will work for you is easier with the help of other seasoned business owners. In a board with a diverse membership, it's likely one of your peers has come across whichever particular situation you're considering in the past and can give you custom-tailored advice.

Your board members can also help you ask the tough critical questions or offer suggestions and caveats based on their own personal experience. They can help you uncover your blind spots and confront gaps in your line of reasoning to make sure your new strategy is watertight.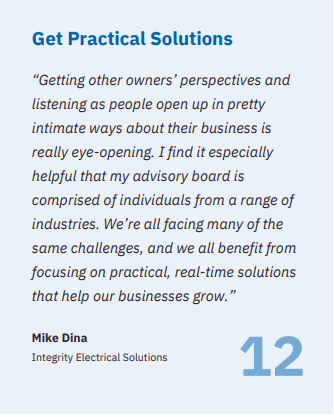 Make Major Decisions with Confidence
Whether you're having to make difficult personnel choices, trying to figure out how to adapt to working from home, or any number of the inevitable difficult decisions every business owner has to face — you don't have to make those decisions alone. From creating an exit strategy to taking your business into new markets, your peers will help you identify opportunities and navigate potential pitfalls. They'll act as sounding boards as you figure out the pros and cons of the options ahead. They'll also be able to offer insights based on experience with similar struggles.
The big decisions have been on your shoulders. Until now.
Avoid Missteps
It's often said that the best way to learn is by making mistakes. But the second best way is to learn from other people's mistakes. In a business owner advisory board, your peers will have made plenty of the usual business missteps, and they'll be happy to share their stories to help you learn.

They also have the collective experience and outside perspective to identify potential missteps before it's too late. Their insights may come from personal experience or simply from having witnessed them in their many years of business. But your TAB Board will be invaluable in helping to identify mistakes before they happen.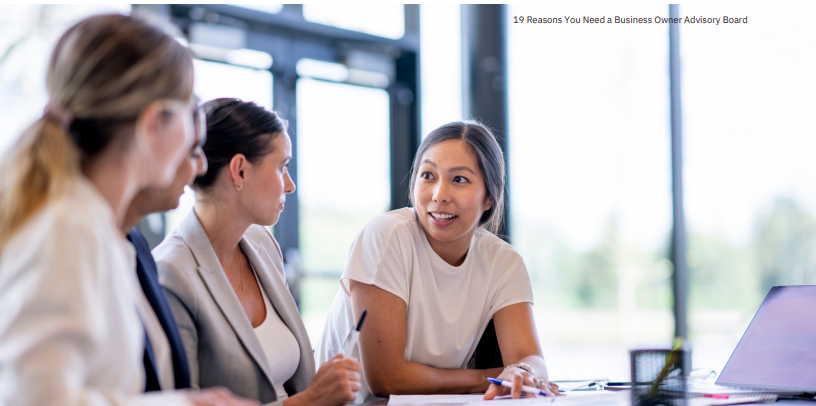 Get Valuable Feedback
The CEOs/business owners on a peer advisory board will give you ideas and get you thinking about your business in a different way. They'll ask you tough questions that only someone on the outside can ask and help you think outside the box of your specific business or industry.

Along with providing peer pressure and accountability, members of a business owner advisory board can help you understand why you're having trouble missing certain milestones or goals. They can help you identify which issues are holding you back or brainstorm ways to get obstacles out of your path.

Leverage Accountability to Achieve Growth
You likely excel at meeting the day-to-day deadlines of your business. But big-picture goals designed to stretch the business — like implementing a new marketing strategy or networking with potential business partners — too often get pushed to the back burner.
A business owner advisory board provides accountability to keep you on track with long-term goals. Knowing that you will need to walk into your next meeting and report on your progress provides the positive peer pressure to accomplish those things that will truly grow your business.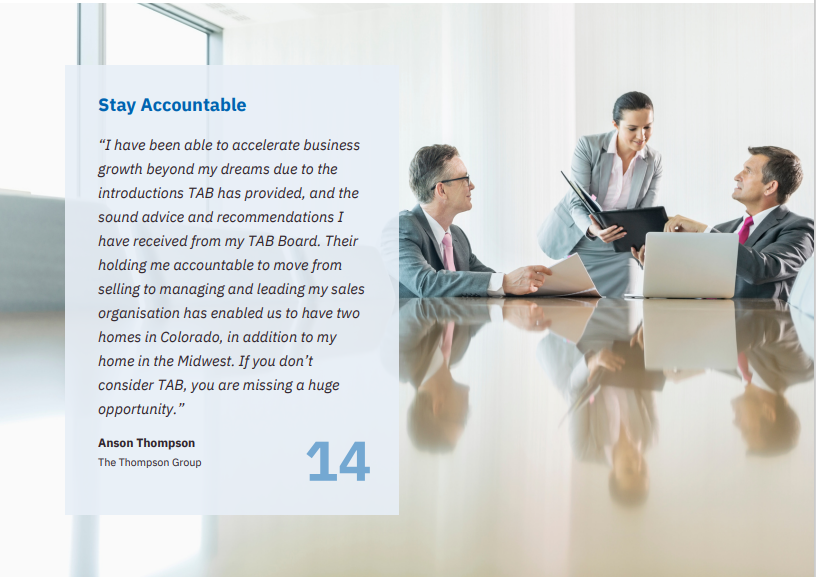 Plan for the Future – Then Execute
Strategic planning is a critically important part of business growth. If a CEO and senior executive staff don't look ahead to what the future might hold, there's little opportunity for growth and expansion. A business can only tread water and hope for the best possible financial outcome.

At the same time, plunging into the strategic planning process without adequate preparation can result in muddle and confusion. Too many attempts at effective planning fall apart, due to mistakes made in the process or a lack of accountability when it comes to implementation.

Achieve a Better Work/Life Balance
CEOs and business owners consistently wrestle with handing off tasks and responsibilities. You might know you can't "do it all," but it often takes external accountability to help you let go of the reigns and focus on what really matters. Some tasks do require your time and attention. Many do not. A CEO advisory board and a business coach can help you sift through how to best manage your time to maximise returns.

The truth is that there is more to life than running your business. TAB can help you identify your personal vision for both your business and your life – and achieve both!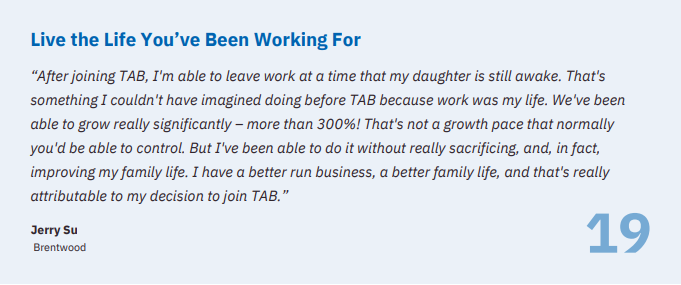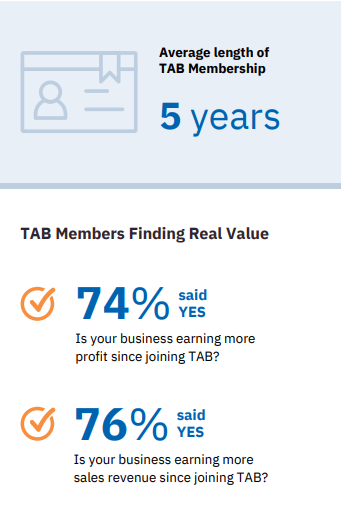 TAB Membership Brings Real Value
Along with the benefits of a peer advisory board, TAB Membership also comes with coaching and consulting services, strategic tools, global networking opportunities and access to proprietary business resources. TAB equips forward-thinking business owners around the world to grow their businesses, increase profitability and improve their lives.

Over 70% of TAB Members say that the board meetings and coaching sessions add real value to their businesses, and 90% say they are likely to recommend TAB to other business owners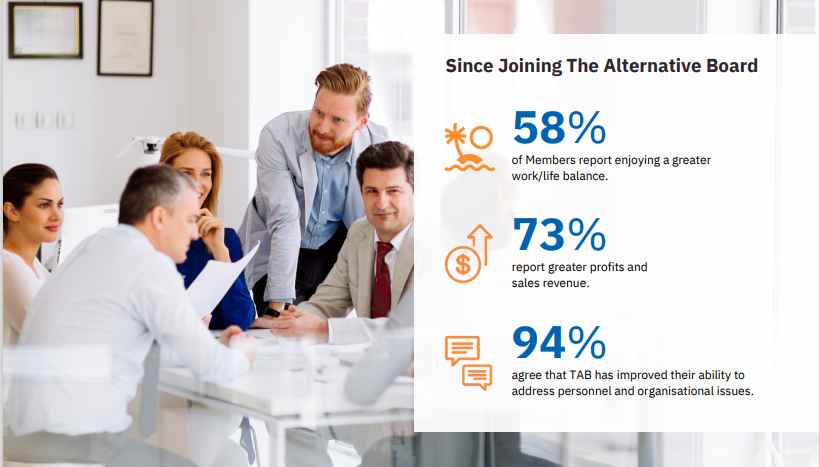 Most people join TAB because they know that it will increase the profits of their company and the value of their business. But they don't realise that they will also receive non-financial values that may be every bit as important — or, in some cases, more important. Business owners consistently improve their quality of life, their work-life balance, learn how to fight burnout better and even work on their interpersonal relationships as a result of their TAB Board Membership. That's real value.
Find a TAB Board near you and begin growing your business today.